Almost every woman wants to have a flower design on her nails because they somehow make you ladies to look more cute and pretty. However, it is not that easy to apply a flower design onto your nails with nail polish hence this means that you will have to try using flower nail art decals or stickers which you can simply place on top of your polished nails and then seal the design in with clear top coat nail varnish. You only need to have know steps taken to go about it and we have availed them below in this article.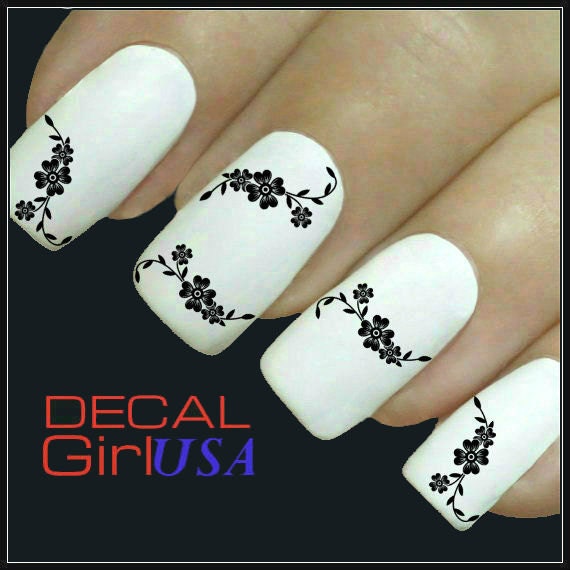 Source:
Feel free to work it out your way if you don't mind getting ideas from this very article.
How to care for your nails;
Always keep your nails dry and clean; this will help to prevent bacteria and fungi from growing under your fingernails. You should put on rubber gloves when washing dishes or when using strong chemicals and avoid soaking your fingers for long in the tub.
Regularly trim and file your finger nails and you can do this with manicure scissors or clippers. Always trim or file your nails after bathing when they are still soft.
Don't use your nails as tools for picking, poking or prying things. This will damage or break your nails
Never try to bite your finger nails or even pick at your cuticles because such habits will damage the nail bed and can also allow bacteria or fungi to enter and cause an infection to your nails.
Source:
The nails your seeing above have a flower garden nail art set with coral and yellow flowers which contrast in color very well bringing out that beautiful look and texture. These nail wraps art water decals are handmade and hence this means you can get them in different colors and designs. The nail wraps/decals can be placed over any color varnish and on either your natural or false nails.
These decals are very easy to apply onto your nails and below are some of the steps you can follow to apply them on;
First of all paint your nails in any color of your choice.
Get the transfer and then trim it so that it fits your nails.
Place this transfer into a basin of water or in your sink for approximately 45 seconds.
Remove the transfer from the water and then slide off the backing paper onto your nails.
Once you see that your happy with the way you have positioned the transfers onto your nails, dab the excess water off the nail decals.
Wait for the nail decals to dry and then seal the with a good quality clear varnish.
Source:
These nails have small simple flower vine water slide nail transfers/decals on them which are handmade. These transfers are very easy to apply because you don't need to submerge them into water.
With these stickers, you will just have to cut around the design and remove the liner and then stick them onto your nails directly like a sticker, after make the back of the decal wet with a special cloth and finally slide off the backing paper right from your finger nails. You should apply a coat of glossy clear nail polish over the decal to seal in the design.
These nail decals have an elegant floral design which makes them to really look cute and beautiful if placed onto your nails and can be used with any traditional manicure.
Source:
Many women and girls like having flowers on their nails and i think the lily flower nail decals above can work best for you if you're that kind of person. These decals really look gorgeous and cute but they are handmade. These are laser quality nail decals which will look like as if they have been painted onto your nails and they are very to apply.
always apply a top coat on these decals so that they can protected from any damages like scratches and this will also help to keep them looking good and shiny for at least 2 weeks.
Source:
The nails above really look trendy and cute and every woman would like to try them out. These are lace cute nail stickers with flower patterns on top and they are handmade stickers which you can get in different colors, shapes and design. these nail stickers are very easy to apply because you don't have to put them in water or cut them but you just have to get your nail glue and then you place them directly onto your natural nails.
Source:
The nails you're observing above look great with those lily flower cluster nail decals, they are handmade laser quality nail decals and this makes them to look like they have been painted on your nails. they are very easy to apply onto your natural nails and in case you wish to keep them for a longer period then you will have to apply a top coat of clear varnish on these decals.
Source:
The nails featured above are painted with light purple nail polish with a daisy flower spring time vinyl decal stickers on top. These flower decals are handmade items and you can also get them in different colors.
If you wish to have a cute manicure for just a night out but when you don't want to paint nails, then these stickers will work best for you. These stickers are made of high quality vinyl material and can add staying power to these decals by at least adding 2 coats of high quality clear coat nail polish over these stickers.
Source:
These nails have gold black daisy flower, dangling diamond rhinestone/crystal accent with metallic 3D nail art decoration charm. These decals are made from different materials which include; crystal, silver, alloy, diamond, gold, rhinestone and dangling. These nails will work best for you in case you want to add amazing sparkles to your manicure.
These are reusable nail decals which are also designed and curved on the back to fit the surface of your nails perfectly. application of these decals is very easy because you just have apply just a few drops of nail glue on your painted nails and then place these decals on top in any desired area.
Source:
Many of you like panting your nails with pink nail polish because it makes you to look cute and attractive. However, some women like to apply some design on top to get a more vibrant look hence this means that they can try out these black flower nail art water decals because the black color of the flowers contrasts very well with the pink polish. These nail art water decals are handmade items and they are also very easy to apply onto your nails.
Source:
The nails you see above are designed with real dried flower assorted styles for nail art decoration. These decals can be used to decorate your nails and to also decorate any other objects that you like. Application of these nails is very and you can follow these steps below to help you during this process;
Polish your nails with any nail polish that you want then apply a top coat over your polished nails.
Place/lay the flower on your nails, let the flower design to dry and then apply a top coat to seal in the design.
Apply a thin layer of clear acrylic or gel over these flowers to secure them into the nails.